User Recipe Import
Import your BSMX format recipes
Here you'll be importing your BSMX files.
Top left of your screen when you're logged in: Settings > Account.
Head to the Import area.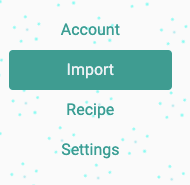 Click Choose File to upload a BSMX export file.

Options
Please don't ignore this!
Delete Existing Recipes: checking this will DELETE your existing recipes (you'll see warning text) when you import your BSMX file. Leaving it unchecked will import your recipes IN ADDITION to your existing recipes.
Make Imported Recipe Public: checking this will make your imported recipes all public - they'll show up on the public recipe feed. Leaving it unchecked will mark them as private.
Please note: we don't have any way of batch editing (deleting, marking private) recipes, so please be careful here unless you want to lose data or spend a few hours deleting/changing your recipes.
todo
[ ] Create an export BSMX function.
[ ] Batch delete recipes
[ ] Batch private/public recipes
James Torr 18 Jun 22